Introduction
What comes to your mind when you think of the Indian monsoon? Gloomy skies, the constant pitter-patter of the rain, and a feeling of general laziness! Monsoons can make your bedroom space more dreary and gray if you don't plan the room well. By adding a few simple bedroom decor ideas, changing the color of bedsheets and curtains, and rearranging furniture, you can beat the monsoon blues and look forward to enjoying the rain in a bright bedroom in high spirits.
Here is a list of simple bedroom decor ideas that will brighten up your monsoon this year.
Top Bedroom Décor Ideas for your Home
1. Change the curtains
Most homes in India have thick, long-lasting curtains that block most sunlight and leave the house shady and cool in summer. These, however, are going to make your bedroom space even more musty and dark in winters. Switch them to curtains made of thin cotton or linen. You can add a combination of regular and sheer curtains to adjust the lighting.
Grabbing whatever sunlight is available during monsoons is a great way to prevent mold and mildew from growing and also to get some warmth in your bedroom.
2. Invest in Bright Cotton Bedsheets
Bedsheets are such integral parts of good bedroom space. Monsoons are already dull and dampening. Do not make the season worse by using old, faded, and dull bedsheets. This is the right time to pick up sheets in colors that you may otherwise not have given a second look – oranges, yellows, pinks, reds, purples, and even neon colors are great to give your bedroom a bright and uplifting look to beat the season's dullness. This is one of the best simple bedroom decor ideas that is inexpensive but creates a remarkable difference in your bedroom space.
If you thought cotton sheets are only for the summer, you could not be more wrong. Your skin needs to breathe, even if the climate is cold. Bedsheets made of rayon, nylon, or polyester can lead to skin allergies and rashes, especially in those with sensitive skin.
Pure cotton bedsheets are best all through the year here in India. Another advantage of cotton bed sheets is that they are easy to maintain.
Drying clothes in the monsoon is an absolutely challenging process. Cotton is lightweight and hence is easier to wash. These also dry quickly, preventing you from handling wet laundry that takes several days to dry.
3. Say Goodbye To Heavy, Musty Duvets
Many families around the country have their own stock of thick woolen blankets and duvets that sleep in the attic all year long and are taken out during monsoons and winter.
While warm duvets and blankets are a blessing during monsoon, these old antique fabrics are usually faded, dull, and rough! These don't get to see the sun often too and hence remain musty-smelling and dampen your mood.
There are many cotton duvets you can pick up that are bright, colorful, thick, yet super soft on the skin.
It is maybe time to give away or recycle the musty woolen ones you have. These cotton duvets can be washed easily too, and as a result, they remain fresh.
4. Pick Up Colorful Accessories
Interior decoration is not about picking up the most expensive accessory for your room. Instead, it is about creating a pleasant ambiance with whatever budget you have and still making a difference in how the space feels.
A couple of bright cushions can instantly lift up the ambiance at home. So can a multicolored throw blanket. A couple of scented candles on your bedroom side-table can bring a lot of fun and feel to your bedroom.
Another hit on the list of simple bedroom decor ideas you can implement in monsoon is investing in bright rugs. These rugs can be used as a seating mat, and you can spend your time on the bedroom floor reading a book or playing with your kids.
Such rugs keep your feet warm and can bright much-needed brightness to the room.
5. Consider Fresh Flower Decorations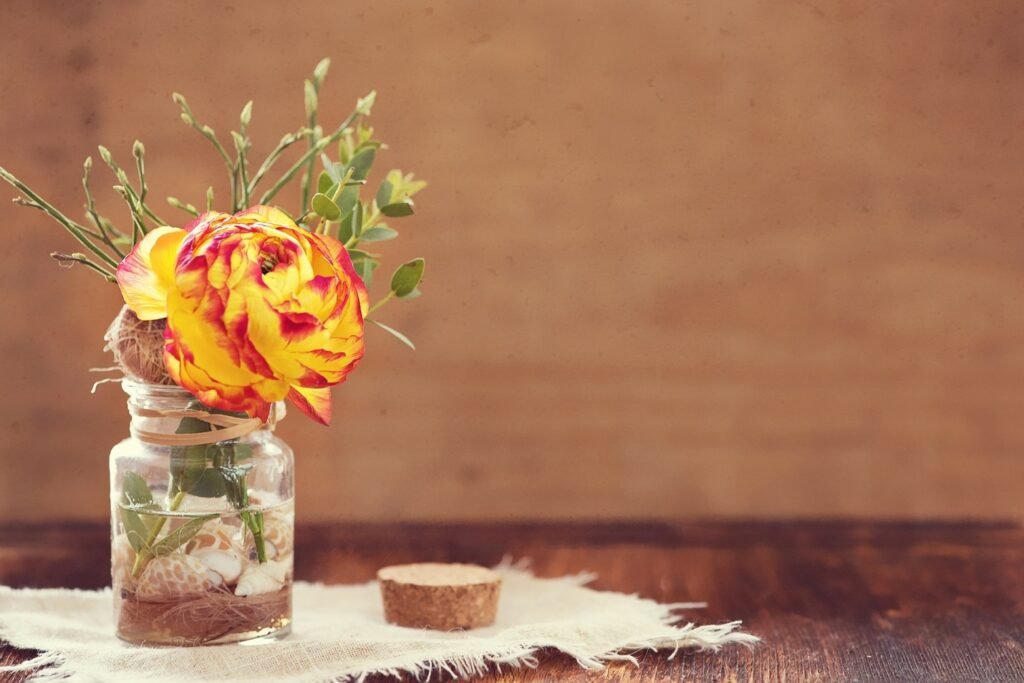 If you live in a place surrounded by gardens, take a walk in the morning and pick up fragrant flowers that you can add to a vase and display in the bedroom. This is great for a lot of reasons.
Flowers add a dash of color and brightness to the room
Flowers keep your bedroom smelling fresh
Flowers are very cheap home décor
Certain flowers with long stems last for even up to a week when kept in water. These are perfect for families that want to brighten their bedrooms in the monsoon.
6. Beat the Dampness
Monsoons bring with them dampness. Dampness all around can bring down the general mood of your house too. Invest in accessories that can eliminate moisture. Weather-proof doormats are simple accessories that can prevent your room from getting wet every time you walk in. If you have bedrooms with attached balconies or patios, these are especially useful.
Make sure the bedroom has ample ventilation to help wet surfaces dry. Use diffusers that smell great and help beat the musty, damp smells that monsoons bring.
Conclusion
Monsoon is definitely a beautiful season of the year. Monsoon brings with itself the promise of flourishing agriculture and gives new lives to flora and fauna.
Imagine sitting in your bright and cozy bed with the duvet covering your legs and sipping a hot glass of tea! You spend about 1/3rd of your life in your bedroom. Make sure it is equipped to handle all seasons. A well-designed bedroom brings you peace and calmness.
BedsheetsIndia brings to you 100% pure cotton bedsheets in bright colors and beautiful designs that will make your monsoons cozy and memorable. Check out our floral patterns, geometric printed sheets, and hand block printed sheets that you will love using this season.
Use all these simple bedroom decor ideas to give your bedroom a makeover this monsoon. Enjoy the smell and feel of fresh rain from your bedroom.