Introduction
The word 'Razai' sounds so pleasant, doesn't it? When you think of a razai, you are immediately transported to a cold night when you slept all cozy, kept warm by a thick blanket. While many parts of the country produce different types of winter blankets, a Jaipuri razai is definitely on top of the list. There was a time when only royalty and wealthy folks were allowed to buy and use razais. Thankfully that is not the case right now.
All families can own beautiful and comfortable razais and bask in the comfort it provides. Did you know that many people use Jaipuri quilts as throws, decorating their sofas too? This blog will take you through the rich history of razais and will talk about the processes involved in creating them. We'll also help you pick up some of the awesome razai designs from BedsheetsIndia at the end.
The History Behind Jaipuri Razai
A razai is a thick piece of quilt that is used similarly to a comforter or a duvet in different parts of India. The origin of Jaipuri razai is documented somewhere in the 16th century when people created handmade blankets using layers of fabric stuffed with cotton to handle the harsh desert winters of Rajasthan.
During that period, materials like wool and leather were either banned or unavailable, leading to people making Jaipur cotton quilts. This style of making quilts has stuck to this date.
How to Make Jaipuri Cotton Quilts?
There was a time when every single Jaipur cotton quilts in the market were handmade. Right now, though, you can find a mix of handmade and machine-made razais available for purchase.
Traditionally, a Jaipuri razai is made using two design variants – block prints and screen prints.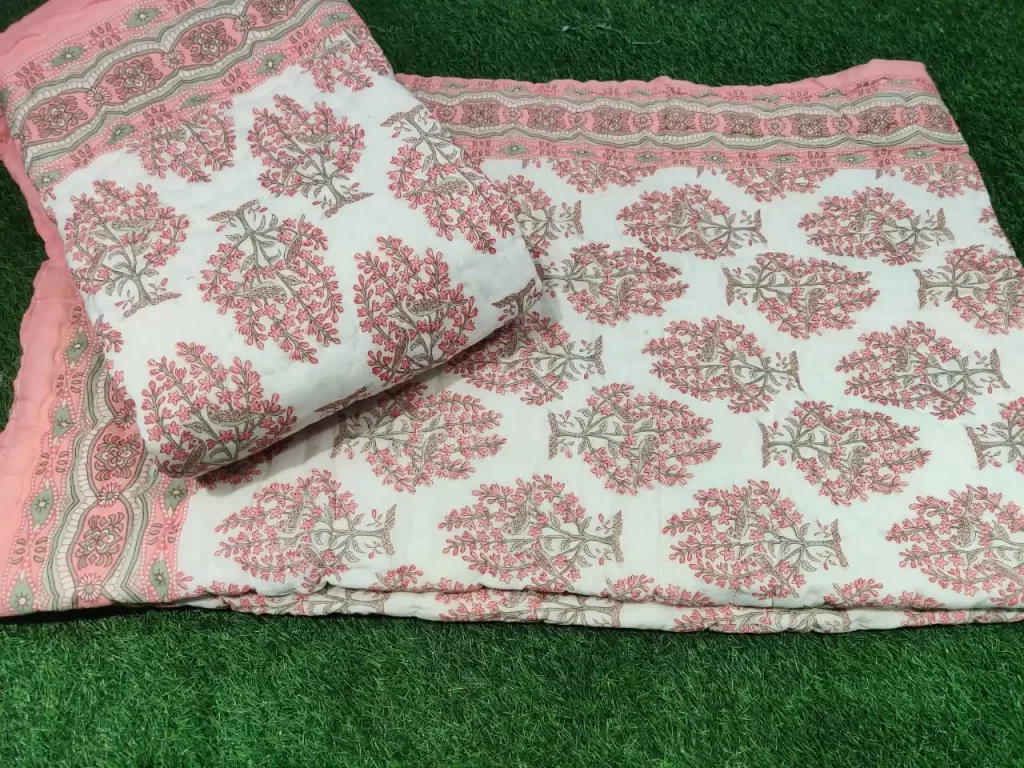 Both screen printing and block printing are done by hand, using different dyes. In the former, a screen with precut design is used, and the dye is pushed through the screen to transfer the print.
In block printing, wooden blocks with designs carved out are used. These are dipped in dye, and imprints are made on the fabric. We have a detailed blog on block printing in bedsheets if you want to check it out.
The basic design of a Jaipuri razai is simple. Two to three layers of fabrics of the same size are chosen. One becomes the top, the second the bottom, and if a third layer is used, it is added below the top layer as insulation. Thin layers of cotton are now stuffed between the fabrics, and the edges are hemmed and stitched together.
Depending on the type of quilt you choose, the whole process could be handmade or machine-made, or it could even be a mix of both.
Are Jaipuri Quilts Different from Other Quilts?
The main difference between Jaipuri quilts and quits made in other parts of the country is the choice of material used. Jaipuri quilts majorly use cotton top and bottom layers and cotton filling too. This makes them an awesome choice for blankets and throws all through the year.
Other quilts could be made from polyester materials, too, especially the fillings.
Features of Best Quality Jaipuri Razai Models From BedsheetsIndia
Printing style
When it comes to printing style, then block prints are the favorite options for many in the country. Block prints are done by artisans, and the colors and designs used are ethnic, very special, and go well with other Indian décors in the room. Block printing is Rajasthan's own and unique printing style that looks amazing. The Jaipuri razai models from BedsheetsIndia all have authentic block prints on them.
Material
There is nothing better than cotton if you are planning to use the Jaipuri quilts all through the year. BedsheetsIndia brings to you amazing Jaipur cotton quilts made of 100% soft and durable cotton. These can be machine washed too and hence are super easy to use and maintain.
Reversible Quality
This is such a fun feature you should look for when you go shopping for quilts. Some of the best quality Jaipuri razai models could be reversible, which means that they come in two different prints and colors on the top and bottom. You can use them like two different sheets, and this is absolutely worth your money.
Feel and Texture
This could be a given if you ensure the Jaipuri razai that you choose is made of 100% cotton. Cotton is soft and gentle on the skin, and the best thing is that it gets softer with every wash. Some families keep such decade-old razais because they have been passed on from grandparents and are absolutely soft on the skin with use.
Warmth
The thicker the Jaipuri razai, the warmer it will be. Did you know that these quilts are given different numbers based on the grams of cotton stuffed in them? For instance, a Jaipuri Razai 100 could have 100 g of cotton stuffing in, while a Jaipuri Razai 60 could have 60 g of cotton stuffed in.
Logically, the former would be thicker than the latter. Make sure you check this value before you buy a razai.
Luxury and Look
BedsheetsIndia ensures that all our razais are carefully designed so they look classy and stunning, whichever room you choose to use them in. The subtle colors, the beautiful prints, and the well-finished look all make your razai the center of attention.
Ease of Maintenance and Storage
Nobody has the time to hand wash their bedding, and that's why choosing machine-washable Jaipuri quilts is the smarter thing to do.
All of BedsheetsIndia's razais are machine washable. Some handmade variants with block prints may bleed dyes in the first few washes, so we encourage buyers to hand wash them separately the first 1-2 times. After that, these can be washed in gentle cycles in washers.
FAQs
Why is Jaipuri razai famous?
Jaipuri razai is famous for its block print work, the comfort it offers, and the versatile usage it brings with it.
What is filled in Jaipuri razai?
Jaipuri razai is usually filled with cotton stuffing. Most of the comfortable razais in the market come stuffed with 100 grams of cotton.
Are Jaipuri cotton quilts washable?
Yes, Jaipuri cotton quilts from BedsheetsIndia can be easily machine-washed in gentle cycles. We encourage hand washing them separately the first two times to prevent bleeding of dye color.
What is the average price of Jaipuri quilts?
On BedsheetsIndia, the average price of Jaipuri quilts starts at INR 3100. We, however, are offering a 25% discount on the product right now, and you may want to grab the deal. Authentic quilts are not very cheap because of the efforts put into creating each one of them.
Is Jaipuri razai warm?
A Jaipuri razai definitely keeps one warm, thanks to the cotton filling. In extreme winters, you may want to use it as an additional layer over woolen blankets or duvets. For summers, these razais are perfect as they are breathable yet cozy.
Conclusion
A Jaipuri razai can be an amazing investment, and this will keep you and your family warm, cozy, and comfortable all through the year. BedsheetsIndia brings to you single cotton best quality Jaipuri razai variants that are a joy to buy and use. Use the razai as a comforter in the bedroom, as a throw in the living room, or as a cozy blanket in your child's crib.